How Often Should I Change My Furnace Filters?
Your furnace filter is meant to help prevent dust, debris, and other contaminants from being spread throughout your home. It traps these things, thereby preserving your air quality as heat circulates throughout the house. However, it's important that you change your furnace filters before they get too dirty. Once dust, debris and other contaminants begin building up, they can not only restrict airflow, they can compromise the quality of your air as well.
When it comes to preserving the air quality in your home, homeowners turn to W.F Smith Heating and Air Conditioning for our reliable HVAC services. Our team of highly-skilled HVAC specialists are experienced and trained to ensure a high standard of service each time. Here's why we have maintained a stellar reputation as the leading heating and air conditioning company in Philadelphia:
Changing Your Furnace Filters
Generally speaking, most furnace filter manufacturers estimate that you should change your furnace filter every three months. However, this is only a general guideline. The frequency at which you should change your filters depends a lot on your household, and every household is different. For example, if you're going on winter vacation and your heat is going to be turned off while you're gone, you may not need to change your filters for a while since your furnace filters won't be doing any work.
However, there are several factors that may require you to change your furnace filters more often. Keep in mind that a lot also depends on the type of furnace filters you are using and their thickness. In the infographic below, you'll see some of the different factors that can result in the need to change your furnace filters more frequently. Once reviewed, continue reading below as we delve into each point: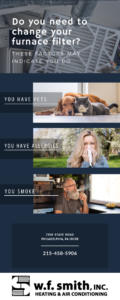 You have pets – If you have pets, then you're going to need to change your furnace filters more often. Pets have a lot of hair and dander that can get into the air and that can contribute to the buildup of debris and contaminants on your furnace filters. If you have one pet, then you should change your filter every two months. If you have more than one pet, you may need to change your filter every 30 to 45 days.
You have allergies – If you have allergies and are sensitive to dust and other contaminants, then you'll want to change your filter on a monthly basis to make sure that you preserve your home's air quality. Even if there are no other factors contributing to the need to replace your filters every month, doing so will help ensure that the quality of your home's air doesn't drop.
You smoke – Smoking inside your home can result in the buildup of dust and other contaminants. If there's only one smoker in your home, then changing the filter every two months should suffice. If there is more than one, you'll need to change it every month.
As you can see, different factors affect how often you should replace your furnace filter. One thing that you should keep in mind is that just because your furnace filter isn't completely dirty, doesn't mean it shouldn't be replaced. As soon as you can see dust and debris building up, it's time to change it.
While you may not need to change it every month, checking it every month is a good idea. For all of your heating needs, be sure to contact us at W.F. Smith today.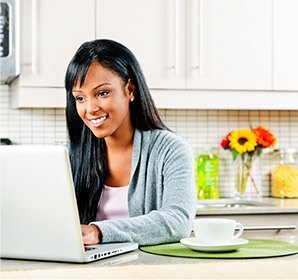 W.F. Smith was great. They worked very professionally and neatly. They were extremely knowledgeable about the equipment and all specific HVAC practices. Would recommend them to the world!